Kenneth Branagh to play villain!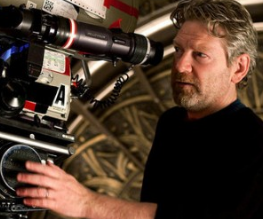 Before we burst into an ode to Kenneth Branagh (the man is a total dude) we must inform you that he has signed up to not only direct, but take a staring role in a new Jack Ryan movie.
The Thor director has announced that he will be acting alongside Chris Pine (Star Trek) in the film based on Tom Clancy's best selling novels with Pine taking on the role of super spy, Jack Ryan. Branagh will be playing evil Russian financier, Viktor Stazov, who crafts a plan to devalue the American currency thereby destroying the US economy (mwahahah)! It will be like Bond only Branaghy! If we are being perfectly honest (and a bit nit picky), it does sound like a slightly lame villain considering that the American economy is doing a perfectly good job of destroying itself without any input from the Russkies. Anyhow, Jack Ryan, an ex marine now working as a financial analysis in Moscow, somehow manages to discover the dastardly plot and will do what ever it takes to stop if from happening…
We only have one question…if you are directing a film and you land a role in it, do you have to audition? Or do you just say "fuck off, I'm Ken Branagh, get out of my way you mere mortals"? We very much hope it's the latter.
Great director or greater actor? You have no other choice. Let us know!
http://credit-n.ru/about.html http://credit-n.ru/informacija.html
About The Author