Kerry Washington to star in Django Unchained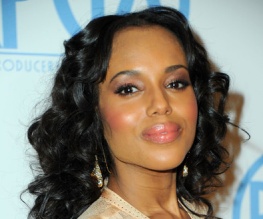 Universally unremarked actress Kerry Washington has been chosen to play the wife of Jamie Foxx's titular freed slave in forthcoming Tarantino 'Southern' Django Unchained. There's a convoluted sentence.
Washington, who has recently been seen in Tyler Perry's For Colored Girls, various TV shows you didn't watch and Spike Lee's dreadful Miracle at St Anna, will play the spectacularly named Broomhilda in the hotly anticipated period thriller.
Broomhilda remains in bondage whilst Django escapes and is taught the skills of the bounty hunter by Christoph Waltz, but her various unwilling travels (she gets kidnapped by Leonardo DiCaprio, you see) provide much of the plot's motivation as Django charges around trying to save her. Expect much sighing and world-weariness.
What do you think of Quentin's choice? Let us know below!
About The Author