Kevin Smith writes giant monster Jesus film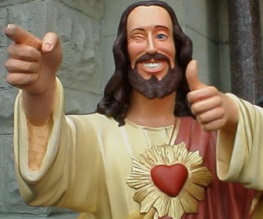 Hot on the heels of Tusk, the first film Kevin Smith adapted from his SModcasts (it'll be out in the autumn), the god of the View Askewniverse has decided to bash another one of his weed-and-Internet-acclaim-induced ideas into a film. Except this one's about Christzilla.
Helena Handbag (we don't understand the name either), which will be shot on a tiny budget because "NOBODY's gonna want to make that movie", isn't going to be on our screens any time soon – with the long-awaited Clerks III due to go into production this May, Smith is charitably putting at least one of his ideas on the backburner. We're not about to start listening to podcasts at our time of life, but as far as we can make out the film first saw light as a fake movie made up by Smith and his producing partner Scott Mosier on their show. That film was called Holy Christ!, Mosier suggested Christzilla and, after some sort of competition, the deliberately confusing Helena Handbag made it to the top of the pile.
Oh, hang on – we haven't really told you what Helena Handbag is about! Well, according to Smith, "the plot of the movie concerns mankind teaming up with Hell to save existence from extinction at the hands of a Rapturing giant Jesus". Not a lot else to say, is there?
Are you excited about Tusk? How about Helena Handbag? Do you just want another film with Joey Lauren Adams in? Us too.
About The Author