Kick-Ass 2 international trailer kicks ass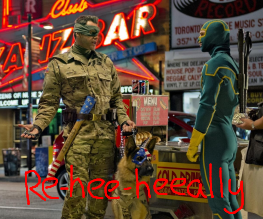 Kick-Ass 2 has taken off one more mask in a new trailer featuring Chloë Grace Moretz kicking Aaron Taylor-Johnson's curiously well-toned ass, and Jim Carrey repeating his performance as Hank from Me, Myself and Irene as a patriotic psychopath Colonel Stars And Stripes. Quite a few plot points are revealed in the trailer, we can only hope that Kick-Ass 2 hasn't overplayed its hand and revealed too much…
Aside from Jim Carrey's remarkably hammy superhero acting, the biggest revelation from the trailer is the X-Men-esque hunt for any masked hero. Considering the first Kick-Ass' ability to take common superhero-film tropes and make enjoyable satire of them, we're fairly certain that Kick-Ass 2 will do a good job with this story.
Chloë Grace Moretz is still looking extremely comfortable in front of the camera. She's having a rather busy year – with Kick-Ass 2 due in August, her true cinematic test will be the Carrie remake set for release in October. Fingers crossed.
Our personal favrourite moments in the trailer are all from Christopher Mintz-Plasse, who returns to Kick-Ass 2 with a new evil identity. Considering that the first Kick-Ass explored themes of differing approaches to fatherhood and completely absent motherhood, we're hoping that Christopher Mintz-Plasse's new villain name, The Mother Fucker, isn't too Freudian. It says something about the tone of Kick-Ass 2 that it's a real possibility.
Stayed tuned, Kick-Ass fans! We'll have all the latest updates for Kick-Ass 2 right here at Best For Film!
About The Author