Kiefer Sutherland to play baddie in Pompeii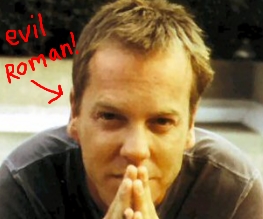 Pompeii, Paul W. S. Anderson's new 3D action film, set in the days leading up to the eruption of Mt. Vesuvius, will tell the story of a slave (played by Game of Thrones star Kit Harrington) on a ship heading for Naples to save the his masters daughter ie. the woman he loves! But, unfortunately for him, she's been promised to a corrupt Roman senator.
We hate to be too presumptuous but it sounds to us that this film isn't going to win any 'best film in the world' awards, it seems like Anderson can't decide whether he's making a romance, revenge or disaster movie. However, we also think it can only be improved by good old Kiefer Sutherland dropping his good guy image and taking up the role as the evil senator. Who has not only nicked the woman Harrington loves but locked up his best buddy too! Nothing has been confirmed but the 24 star is in advanced talks with producers.
Pompeii, produced by Constantin film, will open in the UK in 2014. Exact release date is still to be confirmed.
Sutherland as an evil Roman? What do you think? Let us know your thoughts below!
About The Author