Kristen Stewart features in first On The Road trailer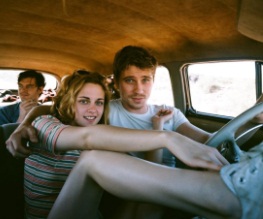 The first trailer has been released for the film adaptation of Jack Kerouac's iconic Beat Generation novel, On The Road. The story sees one Dean Moriarty (Garrett Hedlund) and his buddy Sal (Sam Riley) hit the United States highway in search of 'It'. In other words, it's a semi-autobiographical story about a group of free-wheelers who travel across America getting high, listening to Jazz and writing poetry.

The trailer is packed with the speedy (the drug, not the kinetic process) energy you'd expect from a film based on Kerouac. True to the novel, it's difficult to pin down exactly what the hell these characters are trying to achieve. The first part of the trailer shows the band of rebels being young and reckless, but towards the end it takes a darker turn, suggesting that this film won't be all fun and games. While much has been made of Kristen Stewart as troubled roadie Marylou, the film also features the stalwart presence of Kirsten Dunst and the ever-rugged Viggo Mortensen as morphine addict Old Bull Lee.
About The Author