Kristen Wiig in talks for Anchorman 2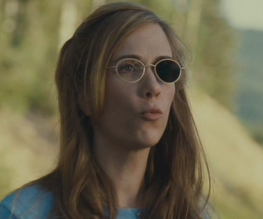 Kristen Wiig might make an appearance in Anchorman: The Legend Continues, if negotiations are successful. The principal cast (Will Ferrell, Steve Carell, Christina Applegate, Paul Rudd and David Koechner) are all set to return , and if she is locked in, Kristen Wiig would be the first supporting actor announced for the sequel to 2004's Anchorman: The Legend of Ron Burgundy.
Kristen Wiig would be a welcome addition to the cast, her tenure at Saturday Night Live having recently come to an end. The girl needs work, dammit! Reports suggest that Kristen Wiig is set to play the love interest of Steve Carrel's character, the weatherman Brick Tamland, who is especially lovable because he has some sort of learning disability. Kristen Wiig also tends to play lovable idiots, so perhaps this is a match made in heaven. Let's hope she gets the job!
We're SO looking forward to Anchorman: The Legend Continues, with or without Kristen Wiig, that we've given it a spot on our 2013 – Our Top 20 Picks list!
Expect to drink a lot of hot milk when Anchorman: The Legend Continues in October 2013.
We love Kristen Wiig. We love lamp. Excited for Anchorman: The Legend Continues? Can Will Ferrell bring the magic back after 9 years away from the news desk?
About The Author