Kristen Wiig signs on for Anchorman 2. Cannonball!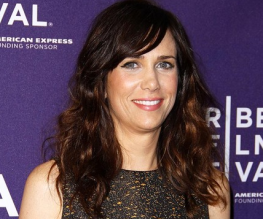 Director Adam McKay last night tweeted the arrival of Bridesmaids actress Kristen Wiig to the Anchorman 2 cast. How has this magnificent woman not been in more films? Someone get her a new agent. Last year rumours circulated that Kristen Wiig might be involved in the upcoming, much-anticipated sequel to Anchorman, and now it's finally true! Wahey! We may not yet know Wiig's character, but we're taking bets to say she'll be Steve Carell's character's love interest.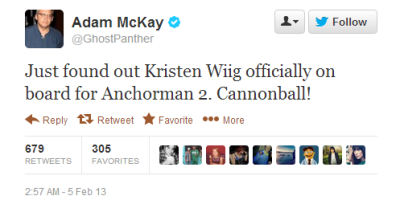 But fear not, BFFers, the principal cast are still all set to return, including Will Ferrell, Steve Carell, Christina Applegate, David Koechner and Paul Rudd. Ferrell and McKay are penning the script, as they did with Anchorman, so we can still expect some good ol' fashioned Anchorman gags and one-liners. Even better, McKay has promised that Anchorman 2 will contain musical numbers. Gee whiz. Kristen Wiig's involvement is terrific news, now if only she was in more films. Seriously, someone nab this kitten up.
Adam McKay has already revealed some delicious Anchorman 2 teasers, as well as a 60 second trailer which MAY AS WELL NOT EVEN EXIST. What are we saying, it's genius. Now imagine Kristen Wiig in it, in the background, singing. Total comedy annihilation. We may not all be lounging in a hot tub full of scotch, but if you feel like riding the Palomino stallion today, take a look at the Anchorman 2 teaser trailer.
Go on, brighten up your morning:
Do you love Kristen Wiig as much as we do? You should, you know. Go watch Bridesmaids again, remind yourself how great it is. ANCHORMAN 2 WOOO!
About The Author