Kylie gets tattooed for new film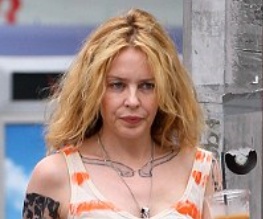 …Sort of. OK fine, we're pretty sure those bad boys are of the "free with your sweets" variety, but still, doesn't she look all bad-ass and stuff? It turns out Kylie has punked it up for her new film role in ,Jack and Diane.
Any pop diva knows that you're only as famous as your persona is diverse. Or something. Re-invention is the key to longevity, and it looks like Kylie is trying as hard as possible to stay in the spotlight. All we know about Jack and Diane thus far is that it's about teenage lesbians and werewolves. What's not to like? Sadly, Kylie won't be playing teen, lesbian or werewolf – rather she's got herself a wee cameo as a biker chick. The film wont be out till 2011, so there's plenty of time to flesh out this obviously extremely high-brow plot. But until then, lookie! Look! She's got all drawings on her and stuff!
A look Kylie should keep? Let us know…
About The Author