Les Misérables gets an international trailer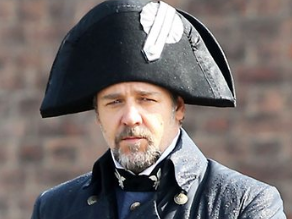 Here at BFF Towers we Dreamed a Dream that soon there would only be One Day More until
we could Hear the People Sing. Well, that's clearly a lie and we must admit that Tom Hooper's new international trailer for Les Misérables leaves us slightly… miserable. From the lofty, lice-free heights of the British monarchy in The King's Speech, Hooper's latest venture takes us on a journey through the blood soaked streets of revolutionary Paris in the film adaptation of the classic stage show/book/previous film (it had Liam Neeson in it).
Les Misérables has been on stage in London for 28 years now and it seems that the majority of people are not fed up with it just yet. The plot of Les Misérables follows the life of Jean Valjean, an ex-convict who breaks his parole to start a new life. Along the way he meets a veritable bunch of equally dreary people who all either die of TB or get bayoneted to death in the French Revolution. Fun stuff. This version of Les Misérables sees Hugh Jackman take on the role of Jean Valjean while Anne Hathaway tugs at the heartstrings as Fantine the prostitute and Russell Crowe attempts to hit some kind of key as the evil antagonist Javert.
This trailer gives us what can only be described as 'The Best of Les Misérables' and if you have even been unfortunate enough to see the stage show then you will know that Les Misérables just goes on, and on, and on for close to four hours… Whilst we must admit that, yes, there are one or two good songs, hopefully Hooper has had the good sense to leave out a lot of Les Misérables less tuneful ditties.
The other thing that irks us about this version of Les Misérables is that it all looks like it is a stage production. The streets all look grubby and French in a kind of Disney World way, like if you go around the corner you would bump into Fantine joining the cue for Pirates of the Caribbean. Perhaps Les Misérables then should have stayed put where it belongs. On stage. Slept through by the world's audiences.
Les Misérables features a pretty impressive cast including Amanda Seyfried, Eddie Redmayne and Helena Bonham Carter as Helena Bonham Carter.
Les Misérables is released on the 11th January 2013. Good timing for those post Christmas blues.
http://credit-n.ru/offers-zaim/bistrodengi-zaymi-online-nalichnymi.html http://credit-n.ru/offers-zaim/ekapusta-besplatniy-zaim.html
About The Author