Les Misérables release date pushed back to Christmas Day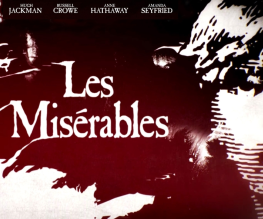 To the disappointment of theatre lovers everywhere, Universal Pictures have decided to push back the release date for Les Misérables from December 14th to December 25th.
The new release date sees Les Misérables pitted against Quentin Tarantino's latest flick Django Unchained and Seth Rogen's comedy The Guilt Flick, as opposed to its previous competition, the hotly anticipated The Hobbit: An Unexpected Journey.
Given that the likelihood of The Hobbit being a massive success is extremely high, this could be a very smart tactic designed to give the film some wiggle room. However, with Oscar baiting season starting early this year, there is a concern that Universal Pictures may have shot themselves in the foot with the delay, but we don't think this is too much of an issue. Despite the relative lack of marketing, interest in the film has remained steady and will no doubt continue to rise as the release date nears.
There are a flurry of films released just four days before Christmas that could potentially eclipse Les Misérables such as On The Road, Cirque du Soleil: Worlds Away and Jack Reacher to name a few, so this move also shows a level of quiet confidence in the film on Universal Pictures' part.
About The Author