Life of Pi trailer is a beautiful thing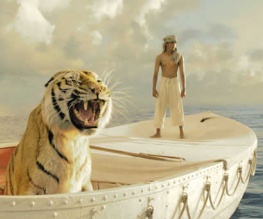 Life of Pi – Ang Lee's film adaptation of Yann Martel's best-selling novel of the same name – has a new international trailer, and very handsome it is too. It's been a while since Ang Lee last wowed us with a major project, but Life of Pi should see the sometimes-visionary director back to the spotlight. If you're one of the few people who didn't read the novel when it was released in 2001, take a look at the trailer to get a feel for what's in store.
Directed by Ang Lee, Life of Pi will see newcomer Suraj Sharma playing Pi, a young zoo-keeper's boy from India, who ends up having quite an adventure. When his family decide to move the zoo from India to the more politically stable Canada, their ship is caught in a terrible storm, and Pi finds himself ship-wrecked on an island, with only a zebra, a hyena, an orangutan and a pissed off tiger for company. And there's plenty of spiritual journeying to be had henceforth.
Oh, and the tiger is called Richard Parker. Just because.
The trailer gives a fair indication of what the film will be, from the terrific looking storm, to the warm, dream-like way Pi's adventures with the animals are shot. And if you ever want a masterclass in how to score a trailer, then this is it. Utilizing Coldplay's Paradise in a way that makes us not hate Coldplay, and Sigur Rós' Sæglópur (which translates as Lost at Sea, natch!), the music provides exactly the sense of wonder and hope that Life of Pi is striving to inspire.
Of more concern are the somewhat suspect CGI animals. The elephant at the beginning; certain shots of Dick the Tiger… Life of Pi is as much of an ode to nature as anything else, so it's going to important that the animals of the story are believable, and at the moment we're not entirely convinced. Having said that, given the fantasy-tinge that Lee has chosen to paint his canvas with, this might not be too much of an issue on the finished product. We'll have to wait and see.
However, with Sharma's spirited Pi, Rafe Spall's interviewer in the framing device (who replaced Tobey Maguire, as Ang Lee didn't want a Hollywood star in amongst the otherwise international cast – probably wise), and the charismatic Irrfan Khan as Older Pi, we look to be in good hands when it comes to the human cast.
Life of Pi washes up on shore on November 21st 2013.
About The Author