LiLo judge warns her "not to push your luck"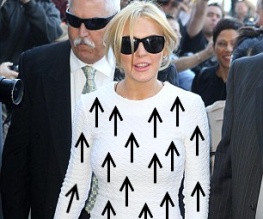 Lindsay Lohan has been released on bail after pleading not guilty to the theft of a $2,500 necklace from a California jewellery store.
Judge Keith L. Schwartz (there's a name to inspire righteous dread into wrongdoers, eh?) warned LiLo that she was "no different than anyone else" and threatened to jail her without bail being set if she violated the law whilst on remand.
The sometime actress wore a skintight white dress (sans arrows) and apparently didn't appear to be monged out of her box, which is something. She has, however, been sending flowers to the shop which has accused her of the theft, which prompted a slap on the wrist from Judge Schwartz. Let's see what happens, eh?
About The Author