LiLo sent down among the real Mean Girls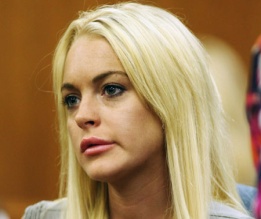 Lindsay Lohan has begun her second prison sentence in less than three years. The socialite and sometime actress, whose career arguably peaked at the age of eleven with her starring role in the remake of The Parent Trap, has been sentenced to ninety days incarceration for breaching the terms of her DUI probation order.
Lohan was taken into custody this morning after arriving ten minutes late at Beverly Hills Municipal Court with suspiciously plump lips and a sizeable entourage. She will by now be getting used to life without hangers-on, jewellery, mobile phones, daily showers and a wardrobe which doesn't lean heavily towards orange.
However, it seems she may get away with another reduced sentence after an LA Sheriff's Office spokesman suggested that as a non-violent offender (she refused to go to alcohol education classes, the little rebel) she could be released as early as August 1st in order to ease overcrowding issues.
Fans of LiLo's previous brushes with the law will recall that she served just eighty-four minutes of a 2007 jail sentence before being released into a community still shaken by her relentless idiocy. Just to contextualise the extent of her punishment, Lohan's 2004 aberration Confessions of a Teenage Drama Queen runs to eighty-nine minutes. Best For Film thinks it would prefer the jail sentence.
About The Author