Lily Collins to star in Pride and Prejudice and Zombies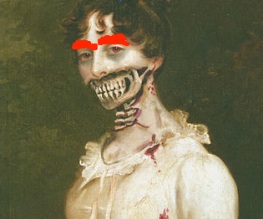 In "Is This Seriously Still Going To Happen" news, Lily Collins, whose eyebrows you saw on all those Mirror Mirror posters, is set to wield a katana against a horde of corseted zombies in the long dreaded movie adaptation of Pride and Prejudice and Zombies.
She follows a string of rumoured Elizabeth Bennets, including Natalie Portman, Scarlett Johansson, Emma Stone and Blake Lively who presumably decided that they had too much class and fame, and generally better things to do.
The film follows the story of Jane Austen's bloody awesome book if it were set in an England that had seen an uprising of the undead a decade or two earlier. In its defence, P&P&Z was the first of the "throw monsters at history" books, so it is at least the flog that killed the horse, rather than the one that pounded on its rotten flesh. Of course, that also means it can have a hearty portion of the blame for Abraham Lincoln: Vampire Hunter.
Elizabeth and her sister Jane have been raised as ninja warriors, in order that they can defend king and country against the evil interlopers, while still beguiling gentlemen Darcy and Bingley. Combining the original text with occasionally gory scenes of action and general nastiness, the book must have seemed a good idea at the time.
Considering the regularity with which directors and actors join and abandon the project, this whole thing is already a stellar example of ill-advisedly trying to resurrect the dead. Lily Collins and her eyebrows may have to hold their breath on its happening at all.
About The Author