Listen To the Dark Shadows Original Score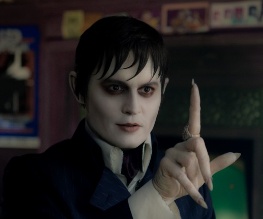 Danny Elfman and Tim Burton, together again! There was absolutely no way that Dark Shadows was going to go without one of Elfman's iconic soundtracks. And, lucky things that you are, you've even got the chance to wrap your ears around his brand new melodies before the film ever hits the cinemas…
Unsurprisingly, the music is magical. The shock factor actually comes from the style of the melodies themselves; we were all expecting something utterly zany, like his score for Charlie And The Chocolate Factory or Alice In Wonderland. Especially as Dark Shadows is, essentially, a comedy.
But we were wrong.
It's dark, it's gothic, it's disturbing… in short, it's everything we could have possibly hoped for and more! Our favourite, if we HAD to choose, would be Vicky's Nightmare. Or Barnabus Comes Home. Or… or any of them, really. It's all very reminiscent of Elfman's excellent work in Batman Returns, isn't it?
The full track listing and 90-second samples of Danny Elfman's score for Tim Burton's Dark Shadows are now online at WaterTower Music and accessible by clicking the image above.
But we issue a warning; with every gift comes a sacrifice. Each of the track listings contains a film spoiler… enter at your own peril.
Has the Dark Shadows soundtrack changed your opinion on the upcoming film?
About The Author