Look! It's Gemma Arterton's breasts! (in a film)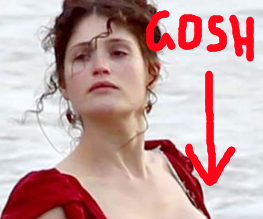 Gosh, well, this has certainly woken us up. The clever, aroused producers over at Byzantium seem to have clocked onto the fact that we're all bored bored BORED of anaemic vampires and their constant coughing, so have taken a rather different approach with the costuming of their fang-baring drama. And the approach is BREASTS BREASTS (a bit more coughing) BREASTS BREASTS BREASTS.
The story centres on… erm… like, oh we don't know probably some vampires or something LOOK AT GEMMA SHE'S GOT SOME BREASTS
God she looks unhappy. Backache due to not being properly supported, we expect. Never heard of M&S's free measuring, Gemma Arterton's character in Byzantium?
The thing is, we know from excellent The Disappearance Of Alice Creed that Gemma Arterton has absolutely no need to flaunt her wares in quite such a fleshy fashion. This – coupled with the vagina-skimming shorts in Tamara Drewe – only serve to dial down her natural acting talent and… well… force us to concentrate on her other talents entirely. So which way will Byzantium swing? We'll have to wait until next year to find out…
About The Author