Looper gets an even better trailer!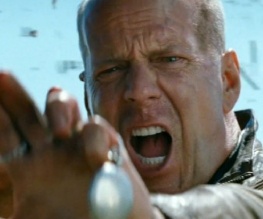 Sure we know what you're thinking. Yet another trailer? But honestly, can you tell us that Looper doesn't make you as excited as an excitable monkey who has just been injected with excitement serum? Thought not. There have been trailers, and trailers and images but now perhaps the bestest trailer of them all have has been released. This latest one offers a deeper look into the world of Looper and shows that there is so much to look forward to.
You all know the plot by now surely but here we go one more time in case you haven't been paying enough attention. Joseph Gordon-Levitt plays a Looper, an assassin who kills people criminal gangs thirty years in the future send back in time to dispose of. There is only one rule. Don't ever let a target get away. All goes pretty well for him until one day Bruce Willis gets sent back in time and he realises that actually Willis is his future self. That, plus a LOT of telekinesis.
Check out le new trailer au-dessous:
Mon Dieu! It is great to get a real feel for the mood if this film and not just a whole load of (very cool) action sequences. Looper becomes more promising by the day. With an amazing cast featuring the brilliant Emily Blunt and Paul Dano the only one drawback is that is has Gordon-Levitt as its lead. Fingers crossed though he can dig deep and pull it out of the bag. As ever though for action films with JGL in, there is a proper hero nearby to make up for the fact that he is a scrawny dork.
Looper is released on the 28th September and we will be knocking you all out of the way to get to our seats first.
Ridiculously excited or RIDICULOUSLY EXCITED?! Let us know!
http://credit-n.ru/offers-zaim/oneclickmoney-zaim-na-kartu.html http://credit-n.ru/offers-zaim/platiza-mgnovenniy-zaim-online.html
About The Author