Lynne Ramsay to take Moby Dick into outer space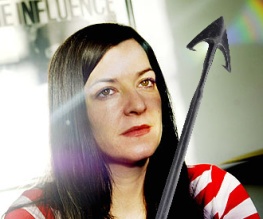 Yep, it's happening again. Hard on the heels of the abominable Age of the Dragons, and three years after we first heard of Timur Bekmambetov's planned adaptation (set to involve bullet bending and flying whales – we're so glad it's sunk), We Need to Talk About Kevin director Lynne Ramsay is now planning her own adaptation of the epic American novel Moby Dick.
In space. Didn't see that coming, did you?
Speaking on Kermode and Mayo's BBC radio show, Ramsay revealed that her new project would be a psychological thriller taking place in the claustrophobic confines of a spaceship – think Das Boot meets Alien, but with a massive luckdragon banging on the windows. We just don't think we can process this.
Mind you, if anyone's up to making a not-totally-shit film out of a premise like that then it's probably Lynne Ramsay. We call Tilda Swinton for Ahab!
To the last, I grapple with thee; From Hell's heart, I stab at thee… What do you think?
About The Author