Magic Mike red band trailer will burn your eyes out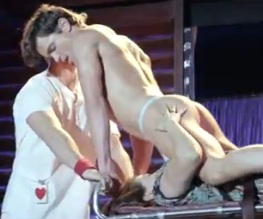 We've already seen Magic Mike. Ha-ha! Unfortunately we're not allowed to talk about it for a couple of weeks yet, but suffice to say that we can confirm these rumours:
– It is a film
– It stars Channing Tatum, Alex Pettyfer and Matthew McConaughey
– It's a bit like visiting Tom Cruise's imagination
Anyway, a video describing itself as a "red band trailer" has hit the web today and we're here to tell you that it's… not one. It's a TV spot, and if it's for realz red band then the MPAA is being a whining bitch, because virtually nothing happens. Watch it if you want, but if you think it's preparing you for the sheer AB ARSE AND ALEX ACTION of the film then you're probably going to shit your heart out of your eye when you actually see the film.
Fortunately, as ever BFF has gone the extra mile and found the real red band trailer. Hang onto your jockstraps:
Phwoar.
Will you be seeing Magic Mike? You should.
About The Author