Magic Mike waves his wand online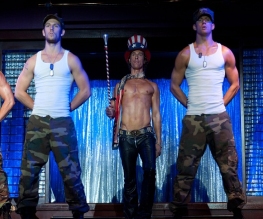 I don't know if you've noticed, but the first trailer for Steven "I'm still retiring, I promise" Soderbergh's latest movie, Magic Mike, is currently flaunting its assets online.
Inspired by its star's own adolescence, Soderbergh having heard all about it on the set of January's aptly titled Haywire, the film follows Mike "Magic Mike" Martingano's (Channing Tatum) as he mentors another young stripper (as played by Alex Pettyfer) in the ancient art of tearing your pants off. When he falls for the newcomer's sister, however, he is forced to re-think his life and — as a result — his chosen profession.
Say what you like about Oscar-winner Soderbergh, but he's nothing if not diverse in his choice of projects. With a filmography that encompasses everything from Traffic to Contagion, Erin Brockovich to Ocean's Twenty-five, it's hardly surprising that he should want to have another of his fingers in this very different brand of pie (narf). You can see the trailer for yourselves below:
While the cast — which, in addition to Tatum and Pettyfer, also includes Matthew McConaughey, Matt Bomer, Cody Horn and Olivia Munn — hardly fosters much confidence, Tatum's surprisingly affable turn in 21 Jump Street definitely lends the project more credence than it might have had previously.
Magic Mike unveils itself on July 13th.
About The Author