Malkovich round-up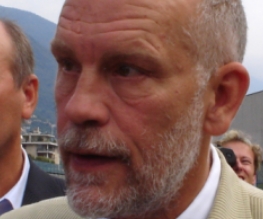 It's a bit of a double-whammy for any John Malkovich fans out there: Not one, but two snippets of news for y'all, and they're both comic book related. The first comes, naturally enough, from Italian sports show Quelli Che il Calcio, which recently featured Malkovich as a guest. What in the name of Sam Hill is Malkovich doing on an Italian sports show? We dunno, but you can try telling us in the comments below if you like.
Anyhoo, story is that Malkovich confirmed all those Vulture rumours flying about (sorry), and he really has been lined up to play the baldy green villain in the upcoming Spidey 4. Since the project has mired itself deep in development hell, however, his appearance ain't exactly confirmed – he admitted himself that he's waiting for a script.
The other tidbit is slightly more promising – Malkovich has joined the cast of Red, another comic-book adaptation that starts filming this week. Red sees Malkovich teaming up with Bruce Willis as retired black-ops agents pitted against younger – and more technologically savvy – assassins. Reputedly a comedic role, Malkovich's character is a paranoid chap who's always believed everyone's out to kill him. The cast also includes such luminaries as Morgan Freeman, Helen Mirren, Richard Dreyfus and Brian Cox.
So why the Sam Hill was John Malkovich on an Italian sports show? Somebody, please, tell us below. It's gonna keep on bugging us 'til we find out.
About The Author