Man of Steel gets new banner poster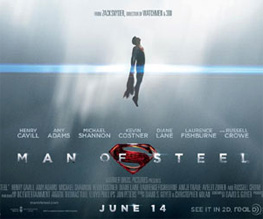 We are tremendously excited for Man of Steel. Then again, who isn't? Brandon Routh, probably. The thing is, we're already pretty much as excited as we're going to get. We don't really need new stuff to get our engines revving. THEY'RE ALREADY REVVING TO THE MAX, ZACK SNYDER! We're so revved we could take part in a drag race and cross the finish line in first place, just as the car explodes out of sheer excitement.
Anyways, because nobody listens to us, the people behind Man of Steel have released another poster to whet our already sufficiently whetted appetites. Click to go big.

So that's it. Boring huh? It's basically just a screen grab from the trailer and – though we really like the whole aesthetic Snyder has gone for – it's hardly anything to write home to Krypton about. Just look at all that empty space! Think about all the things that could go there! Luckily, BFF have stepped up to the challenge of making this poster POP just a little more. Click to get the full, heartstopping effect.

Now THAT'S a poster we can get on board with.
Man of Steel is out in the UK on the 14th June. ARE YOU AS REVVED AS US???
About The Author