Man of Steel premieres shiny new poster at Comic-Con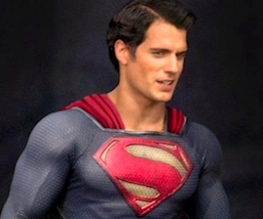 Comic-Con held its Man of Steel panel over the weekend, giving us plot details, unseen footage and a rather underwhelming new poster for the remake of Superman. The new film is cunningly entitled Man of Steel, so that less canny writers than us don't grumble on the internet about how Hollywood is properly scraping the arses of the bacteria on the bottom of the proverbial barrel if bloody Superman is their next man-du-box-office. At least the poster's pretty snazzy? Click to enlarge.
Other information that surfaced from Comic-Con makes the film sound a teensy bit more enticing; with Kevin Costner (The Untouchables) playing Papa Kent, and Russell Crowe (Gladiator) playing Superman's biological father Jor-El, there's at least enough of a badass quotient to guarantee some decent explosions and gun-slinging tomfoolery. Thank fuck, because we doubt that even the lovely Amy Adams (Enchanted) can make the abhorrent Lois Lane anything but a dingbatty damsel-in-distress.
The jury is still out on whether or not composer Hans Zimmer has managed to outdo his stunning work on the score of The Dark Knight Rises; the music featured in the exclusive Comic-Con footage of the film was lifted from his work on Terrence Malick's The Thin Red Line. On the plus side, after much pondering, we're at least 85% sure Cavill's chainmail get-up is less ridiculous than the scarlet budgie-smugglers of yore.
Man of Steel is scheduled for release on 14 June 2013.
About The Author