Mark Ruffalo signs 6 movie deal with Marvel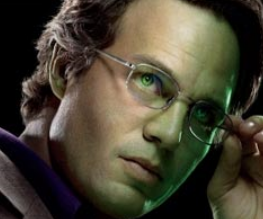 So everyone in the world came out of Marvel Avengers Assemble screaming to the heavens "FINALLY! THE HULK ISN'T A DICK! THIS IS AMAZING! MARK, TAKE ME, TAKE ME HERE IN THIS ODEON CARPARK". It was only a matter of time before the Marvel big-wigs caught up, right? Having apparently noted the baller success of Ruffalo's interpretation of the not-so-friendly green giant, Marvel have locked the actor down in a six film deal, ensuring we're going to see a lot more of his Bruce Banner. Well done them.
So what does this actually mean? Well, the six picture deal is pretty standard for Marvel; it's the deal they signed with Chris Hemsworth, Robert Downey Jr and Chris Evans – hell, they've got Samuel L Jackson locked in for nine of the suckers, for crimety's sake. So though it doesn't neccessarily guarantee Ruffalo his own spin-off franchise, it certainly means Marvel are bedding down for a good few more Avengers movies, not to mention at the very least giving Ruffalo a cheeky cameo or two in Iron Man 3, Thor 2 or similar. But to be honest, it would make sense for Marvel to give The Hulk another whirl off his own back. We have faith in the Ruffalo – just as long as they keep Joss Whedon behind the steering wheel.
Would you want to watch an hour and a half of pure HULK SMASH? If not, what's wrong with you? Tell us your problems below:
About The Author