Martin Freeman joins Edgar Wright's The World's End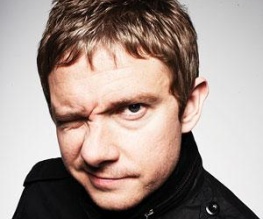 Martin Freeman has joined The World's End, the closing chapter of Edgar Wright, Simon Pegg and Nick Frost's Blood & Ice Cream Trilogy which – if the first two parts are anything to go by – is certain to become a future cult-classic. With zom-com Shaun of the Dead and action spoof Hot Fuzz becoming two of the more successful British films of recent years, there's pretty much no way The World's End can fail.
The plot this time around sees Frost, Pegg and three other friends re-uniting after twenty years to re-enact a legendary pub-crawl from their youth, ending up at revered watering hole The World's End. If it's the one in Camden, we suggest they bring wellies in the event that one of them needs to venture to the gents. And even if it's a fictional pub, they're still in trouble.
Unfortunately for our quintet, there's a science-fiction element to the plot this time around, and it appears that their epic journey to The World's End might involve them trying to prevent… well, the world's end! It's unclear exactly what the potential threat to the world will be this time (though we'd imagine zombies are out), but Wright has likened the plot to the "social science-fiction" sub-genre. If you don't know what that means, don't worry; nobody does. But expect this one to have a point. Probably that we as a society are a bit rubbish, or something.
Whatever it's about, Martin Freeman joining the cast can only be a good thing. He had fleeting appearances in both Shaun of the Dead and Hot Fuzz, so his inclusion here provides a nice link to the past (as does the already-confirmed presence of Paddy Considine). No word on who Freeman will be playing yet, but we hope it's one of the five friends. With his star about to become significantly brighter with his lead turn in The Hobbit movies, it's conceivable that Freeman could be the biggest name in the cast by the time this one's released. Still, teaming up with old muckers Pegg and Frost is likely to bring out his fun, sitcom side. If nothing else, he'll likely enjoy filming without prosthetics.
The World's End is set for a 14 August 2013 release, provided the Mayans were wrong and, y'know, the world doesn't end.
About The Author