Martin Scorsese and Lars Von Trier join forces?!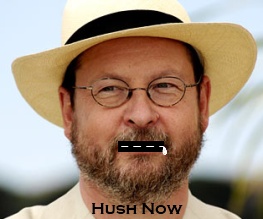 Finally some good news from the Lars Von Trier headquarters. Apparently Scorsese and Trier are teaming up to film another version of the film-documentary, The Five Obstructions, released in 2003. The intriguing film featured Trier challenging director Jørgen Leth to remake Leth's creation, The Perfect Human, in five different 'conditions', or more specifically, 'obstructions'. For example, Leth was challenged to film in "the worst place in the world", without actually revealing the location. This time round, Trier will choose a Scorsese film that the filmmaker must transform in five different ways, but we still await in the dark as to which film will be picked.
This joyous collaboration comes after Lars started shooting the controversy cannon at the somewhat suspecting public at the Cannes Film Festival this year. During a Melancholia press conference Lars blurted out, "Ok. I'm a Nazi… For a long time I thought I was a Jew and I was happy to be a Jew… I found out I was actually a Nazi. Which also gave me some pleasure. My family were German. What can I say? I understand Hitler…I sympathize with him a bit… I don't mean I'm in favor of World War II and I'm not against Jews, not even Susanne Bier. In fact I'm very much in favor of them. All Jews. Well, Israel is a pain the ass but…"
Oh Lars. Can someone please just push him under a table and let his films do all the talking? The festival bosses seemed to think so, as they swiftly cancelled the Melancholia party and banned Trier from the Cannes festival FOREVER.
About The Author