Marvel Phase Two commences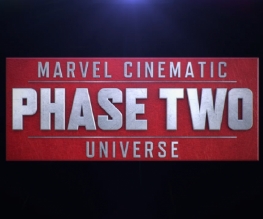 Ooh-wee! Do we have some treats for you! Courtesy of Marvel's Phase One box set (released just today on Blu-ray) we bring you not only a sneak peek video into Marvel's Phase Two initiative (which of course includes some more footage from the highly anticipated Iron Man 3) but also a few choice behind-the-scene pics from Thor: The Dark World, stills from the test footage of Edgar Wright's Ant-Man AND brand new concept art for both Guardians of the Galaxy and Captain America: The Winter Soldier.
Feeling riled up yet? Good! Now get your first gander from the set of Thor: The Dark World. Click for a closer look!
Hemsworth in shiny armour and long flowing locks? Check! Epic looking, bloody battles? Check! Elaborate other worldly sets? Check! A dewy eyed and suitably besotted Natalie Portman? Check!
If you feel like the leaked footage from the Ant-Man test was just too short, here are a couple of stills to hold you over till a few more makes it to the surface.
Is it just us or does Ant-Man look so much cooler than you thought he could?
Next up is the concept art for the proposed Guardians of the Galaxy flick.
And last, but never least, we have snippets from the story-boarding of Captain America: The Winter Soldier.
Marvel's Phase Two begins with our favourite "genius, billionaire, playboy, philanthropist" in Iron Man 3 hitting our cinemas on the 3rd of May. This will be then followed by the lightning God himself in Thor: The Dark World slated for a November 8th release date. The initiation will continue into 2014 with Captain America: The Winter Soldier set for April 4th, before we get out first introduction to the Guardians of the Galaxy on the 1st of August. In preparation for the May 2015 screening, Marvel Studios has chosen to make the best of tidy arrangement (not to mention the handy tax breaks) and chosen our very own Pinewood-Shepperton Studios as their base of production for The Avengers 2. So if you happen to catch sight of someone that looks alarmingly akin to the like of Robert Downey Jr., Chris Evans, Chris Hemsworth, Mark Ruffalo, Scarlet Johanssen or Jeremy Renner, don't panic! You might not be completely crazy.
About The Author