Matt Damon, Ben Affleck & Casey Affleck head to the South Pole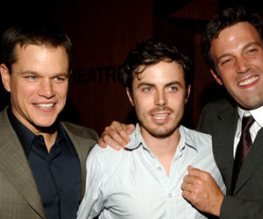 Matt Damon, Ben Affleck and Casey Affleck are pooling their collective powers to bring us biopic Race To The South Pole. Based on a true story, the film will uncover the life of Englishman Robert Falcon Scott: a Royal Naval officer who participated in a race to be the first man to the South Pole against Norwegian explorer Roald Amundsen during the 1900s. Casey Affleck will be playing the lead with the inferior, sorry older Affleck brother producing the film along with his buddy Matt Damon.
This isn't the first biopic Matt Damon and the Affleck brothers have been linked with. The trio had previously attempted to work together on a black list script for The Trade, a screenplay based on the sexual antics of Yankee players Fritz Peterson and Mike Kekich, but legal woes meant that the project never got off the ground. There is also yet another biopic in the works for Matt Damon and the Afflecks: a film based on the life of notorious Boston crime-lord Whitey Bulger. The flick would reportedly see Matt Damon and Casey Affleck starring in lead roles with Ben Affleck at the helm as director and current reports suggest that this film is still in the pipeline.
Race To The South Pole marks the first time that Matt Damon and Ben Affleck will collaborate on producing and considering how well they've been shown to work together on script-writing and acting with Good Will Hunting we're expecting great things. The film has already been picked up by Warner Brothers studios and looks set to be released sometime next year. Watch this space.
About The Author