Medieval Times to get its own movie?!?!?!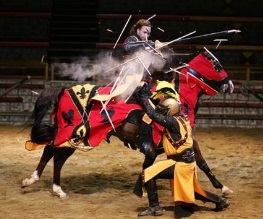 Hey everyone! A bloody RESTAURANT is the latest in a long line of Pointless Things That Are Being Made Into Movies. US restaurant chain Medieval Times, which specialises in shoving throwback performances of jousting, sword-fighting and the like in your face while you eat; is said to be headed to the big screen as the chain celebrates 30 years in business. They have nine branches in the States, including California, Texas and New Jersey, serving up a four course meal which includes spare ribs, half a roast chicken, and something called Pastry of the Castle.
Medieval Times is no stranger to cinema, having been poked fun at by such films as The Cable Guy and Zach Braff's Kickstarter-botherer Garden State. However, production companies Benderspink and Broken Road are said to be taking a serious approach to the project to attract studios to a fantasy adventure that can be turned into a franchise, with an aim to pollute cinema down the ages. There's no word on a director or a cast yet – not that any big name would want to be seen dead on the set of this monstrosity.
Sad thing is, this will probably fare quite well, and will cash in considerably on the popularity of Game of Thrones, The Hobbit, and overgrown schoolboys who love Dungeons and Dragons. Sigh.
About The Author