Melissa McCarthy teaming up with The Help's Taylor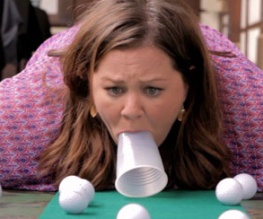 Melissa McCarthy, breakout star of this year's hit comedy Bridesmaids, is rumoured to be teaming up with Tate Taylor, director of The Help. McCarthy has co-scripted a film with her husband Ben Falcone (the air marshal from Bridesmaids – isn't that so super romantic?) entitled Tammy, which tells the story of a woman who – following a string of bad luck – decides to hit the road with her foul-mouthed grandmother.
Well, it's certainly been a big year for McCarthy. Following the success of her hilarious turn in Bridesmaids, McCarthy has signed up to about 5000 more projects: Judd Apatow's follow-up to Knocked Up, This Is Forty; Identity Thief with Jason Bateman; an untitled comedy about a woman who tries to steal the Stanley Cup; and a romantic comedy with Jon Hamm (how dreamy!).
We wish McCarthy every success with her venture, but the sad fact is she will never do anything as funny as having all those dogs in Bridesmaids.
About The Author