Meryl Streep stars in first Into the Woods still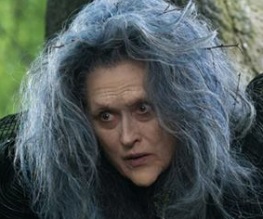 Is it just us or does it feel like Disney is just a little too damn adamant about bringing song and dance back into picture shows? Now don't get us wrong, we love Disney. Nobody else can quite capture the gut-wrenching journey to a happily-ever-after like they do. But, really, can we not all agree that bursting into song smack dab in the middle of sword fight is a little more appropriate to the animation form than the live-action deal? I mean, Enchanted? Really?… No? Ok, just saying…
Well then you, my pretties, are in luck – the Disney optioned big screen adaptation of Broadway musical Into the Woods is well and truly in production. Pulling the strings is Pirates of the Caribbean: On Stranger Tides director Rob Marshall, who kicked off filming in London last week. To prove it we have the first image from the set, featuring the celebrated Meryl Streep as the witch who seeks to reverse a curse and restore her previous beauty.
Click, as ever, to enlarge:
James Lapine's Tony-winning musical intertwines the plots from some of the more popular fairy tales made famous by the Brothers Grimm, with an original narrative involving the quest of a baker and his wife to start a family. Joining Streep in the fun and frolicking are James Corden and Emily Blunt as the baker duo, Johnny Depp's The Wolf to Lilla Crawford's Little Red Riding Hood and Anna Kendrick as Cinderella with Chris Pine as her prince. Stephen Sondheim will be lending his skills to the music and lyrics with an expectation of Christmas 2014 release.
About The Author