Michael Bay NOT sorry for Armageddon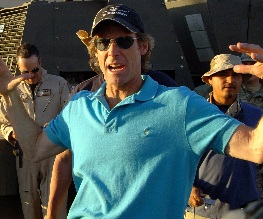 This week, Michael Bay apologised for Armageddon, blaming the final product on the movie studio not giving him enough time to make the film the way he wanted it. Now, Mr Bay has retracted his apology, saying that there is no way he is going to say sorry for what was only the third film in his career.
Bay said: "One press writer has gone too far in reporting false information. He has printed the bare minimum of my statement which in effect have twisted my words and meaning. I'm not in the slightest going to apologise for the third movie in my movie career, a film called Armageddon. On the red carpet for Pain & Gain some reporters asked me what are you apologising for, and I said what on earth are you talking about?"
Going on to clarify his comments he said: "What I clearly said to the reporter, is I wish I had more time to edit the film, specifically the third act. He asked me in effect what would change if you could in your movies if you could go back. I said, I wish we had a few more weeks in the edit room on Armageddon. And still today Armageddon, is still one of the most shown movies on cable TV. And yes, I'm proud of the movie. Enough said." Quite.
Armageddon starred Bruce Willis as a grizzled oil driller who is jettisoned onto a meteor with his crew in order to save the Earth. When it came out way back when in 1998, critics and film fans dissed it in their droves. In Bay's defence, you can't say he doesn't stick to his guns.
About The Author