Michael Douglas got throat cancer from cunnilingus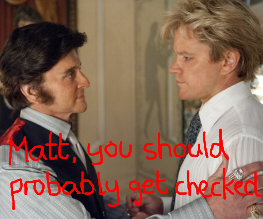 Michael Douglas has informed his adoring and now slightly aghast fans that his throat cancer was caused by the human papillomavirus virus (HPV) after studying the arcane arts of cunnilinguistics. This fascinating medical story (and disgusting letter to Penthouse) is revealed in the week that Michael Douglas will star as Liberace in Behind the Candelabra. Kudos to him for being brave enough coming out with the story, but also, gross.
Michael Douglas was first diagnosed with throat cancer in 2010 at the age of 65. His walnut-sized tumour was given a biopsy and Douglas was told he had stage-4 cancer, which has relatively low survival-rates. An eight-week course of chemotherapy and radiation therapy got him into remission, and Michael Douglas has been looking to get back into the acting game ever since. Good for him!
Asides from the undeniably disturbing mental image of Michael Douglas snarfing down on a vagina like a harmonica, this story actually raises some very interesting medical issues. The transference of HPV from genitals to throat is rather rare, although not unheard of, and this case further supports the need of HPV vaccines for teenage girls. There have been many schools in the US, Canada and yes, the UK, refusing to offer the HPV vaccine on the confused notion that it would encourage promiscuity. This position is absurd, as it suggests that any woman who develops cancer from HPV somehow deserved their circumstances. To draw an analogy, it's like claiming that fire extinguishers encourages people to set fire to things.
That brief public service announcement aside, Michael Douglas has some sage advice on the subject of HPV:
"It's a sexually transmitted disease that causes cancer. And if you have it, cunnilingus is also the best cure for it."
In other news Michael Douglas has recently been made Best For Film's staff doctor, and we eagerly await his medical advice.
Catch Michael Douglas in Behind The Candelabra on 7th June in UK cinemas, and for the love of god practice safe oral sex, folks.
About The Author