Midnight in Paris and The Descendants triumph at WGA Awards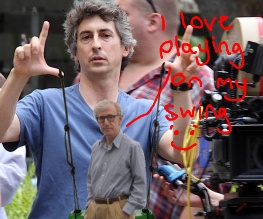 In what must be the six thousandth awards ceremony to take place at a Guild this week, comedy fantasy romance Midnight in Paris and Hawaiian comady (that's coma+comedy, neologism fans!) drama The Descendants have picked up the top gongs at this year's Writers Guild of America awards.
Writer-director Woody Allen won the Best Original Screenplay prize for Midnight in Paris, whilst Sideways director Alexander Payne picked up Best Adapted Screenplay along with his co-writers Nat Faxon & Jim Rash. The Descendants is adapted from the novel of the same name by Kaui Hart Hemmings, who is a lady.
Interestingly, bureaucratic nonsense that we don't quite understand (Hitfix says that "not being in accordance with paperwork guidelines or signatory stipulations" is generally the killer) meant that several of this year's top Oscar contenders were excluded from consideration. Films which didn't make the cut included – deep breath – The Artist, Beginners, Carnage, Drive, The Iron Lady, Jane Eyre, Like Crazy, Margin Call, Martha Marcy May Marlene, Melancholia, My Week With Marilyn, Rango, Sarah's Key, Shame, The Skin I Live In, Take Shelter, Tinker Tailor Soldier Spy, and We Need To Talk About Kevin. Phew. Consequently, WGA success doesn't carry the same promise of Oscar success as does the blessing of its directorial (but no less guildy) cousin…
About The Author