Mila Kunis awaits fallout from sexy trailer with Justin Timberlake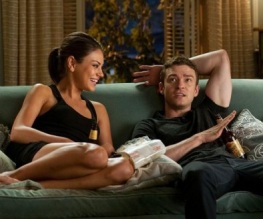 "It's all going to start AGAIN!" Mila Kunis reportedly has told pals after seeing the sex-ridden new trailer for her upcoming film Friends With Benefits. Whilst making the movie with co-star Justin Timberlake, the rumors flew hot and heavy that the couple were having an affair — something both vehemently denied.
Now that J.T. has officially split from long-time love Jessica Biel, Mila Kunis apparently awaits a renewed storm of speculation that she and The Trousersnake were getting their respective rocks off both on and off-screen during filming.

Far be it from us to abate the edifying interest in such matters of who's doing who, but perhaps Kunis should direct her concerns elsewhere; for example – the film looks like an even greater suck-worthy imitation of
Black Swan
co-star, Natalie Portman's equally imaginatively entitled, latest rom-com insipidity,
No Strings Attached
.
If Kunis is attempting to perpetuate her doppelganger role in Black Swan, she's doing a damn fine job of it.
About The Author