Monsters University lands first clip with Mike and Sully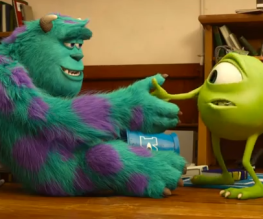 Blimey oh Riley, do we have some Monsters University treats for you today. Somewhat late on the bandwagon, we're spoiling you with not one but two clips from the Monsters Inc sequel (prequel, whatever); the first is the first full-length trailer, and the second is an actual clip from the film. The first Monsters University TV spot did absolutely nothing but encourage us to want to study at an American University, but the first official trailer from the film will certainly psyche you up for the upcoming monster bonanza. Are you ready yet? ARE YOU? Okay, here goes. We'll start you off with the trailer:
(It's brilliant by the way)
Have you recovered yet? We haven't. But there's no time to lose, as we show you the second best part of your day. John Goodman recently appeared on Late Night with Jimmy Fallon and indulged us with the world's first clip from Monsters University, where SULLY AND MIKE MEET. It's the beginning of a beautiful bromance, and we're pumped.
Before you tread any further we do have to warn you that the clip includes SPOILERS. These spoilers are approximately less than a minute long, but, you know, we have to say these things in case you sue us. You'll also have to endure John Goodman chatting about Argo (imminent Oscar win??) and The Hangover Part III. Sorry. Skip to 2.10 if you really can't deal with it.
Here's some more bad news. We can't actually include the clip in this news story, because NBC are anal (our Editor is away, and we have no idea how to do it). So if you want to check it out, click here to watch the first clip from Monsters University!
And have a nice day!
Pumped for Monsters University? Heading out to see Monsters Inc 3D in preparation? Keep us in the loop, we want to come with you.
About The Author