Muppets sequel trying to snag Ricky Gervais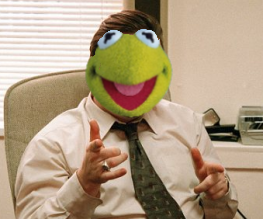 Muppets are popular again! "Yaaaaaay!" as Kermit, Grand Poobah of The Muppets might say. After the successful 2011 iteration of The Muppets, a sequel was quickly commissioned, and the plans are going full steam ahead. Although Jason Segel won't be returning as the lead or writer (BOO!), Ricky Gervais is currently in talks to play an equivalent leading role (yay…?).
The 2011 refreshing of The Muppets franchise did rather well, and even picked up the Best Original Song Oscar for A Man Or A Muppet, music and lyrics by Bret McKenzie of Flight of the Concords Fame (he has a speaking part in The Hobbit! Yaaaaaay!). The Muppets sequel is reportedly to take place in Europe, and that's pretty much all we know so far. Hopefully they can recapture the magic of the last Muppet movie, but considering Ricky Gervais' previous cinema outings, we're already a little worried.
We'll see if Ricky Gervais is a man or a Muppet when the sequel lands in 2014.
Did you enjoy The Muppets? Are you looking forward to a sequel? Is Ricky Gervais really movie-material?
About The Author