Mystery Gang versus WrestleMania!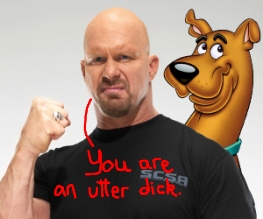 This afternoon we've got the Top 10 Ultimate Versus Movies That We've Made Up coming out here a BFF (Cobra versus He-Man versus Mongoose et al.), and yet even we couldn't have come up with what appears to be actually happening – Stone Cold Steve Austin versus Scooby Doo. WWE Studios are going into production with Warner Bros and making an animated film in which the Mystery Gang solve a 'puzzling mystery' at WrestleMania!
Characters joining the Scooby Bunch will include Triple H, John Cena, Kane, The Miz, Brodus Clay, Santino Marella, Sin Cara, AJ, and WWE chairman and CEO Vince McMahon.
This is the official plot:
"When Shaggy and Scooby win tickets to WrestleMania, the entire gang travels in the Mystery Machine to WWE City to attend the epic event. However, when a mysterious ghostly bear appears and threatens to ruin the show, Scooby, Shaggy, Velma, Daphne and Fred work with WWE Superstars to solve the case."
A GHOSTLY BEAR. Spare us.
Would you watch Scooby Doo investigate WrestleMania? LOL JK, obviously you will.
About The Author