Nepotism rumours overshadow Tarantino's Venice reign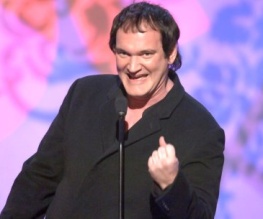 Director Quentin Tarantino has been accused of nepotism after handing out prizes to his nearest and dearest at this year's Venice Film Festival.
Tarantino, who led the 2010 jury, presided over a number of award decisions which could owe more to personal allegiance than the merit of the films involved. Most notably, his ex Sofia Coppola won the coveted Best Picture gong for her film Somewhere despite getting mixed reviews from critics in attendance.
Tarantino's old pal Alex de la Iglesia also scooped two prestigious awards, walking away with Best Director and Best Original Screenplay for his A Sad Trumpet Ballad. The jury also created a special 'career prize', which was promptly given to Tarantino's mentor Monte Hellman.
Other decisions were simply odd – Vincent Gallo, the infamous director who made Chloë Sevigny fellate him on camera in The Brown Bunny, won the Best Actor award for a role (in Essential Killing) for which he had no lines.
Tarantino, for so long the unrelenting bad boy of Hollywood, now risks making a mockery of a great cinematic institution. Stop it, Quentin. Just stop it.
About The Author