New Brighton Rock poster online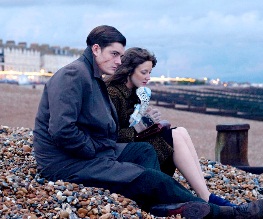 Attention Graham Greene/Sam Riley fans (surely a niche that needs to be further exploited?), we are happy to tell you that a new Brighton Rock poster is now online, and it's… it's… well it's pretty boring.
For those precious few unfamiliar with the 1939 novel (don't look at us like that), Brighton Rock tells the tale of Pinkie, a razor-wielding disadvantaged teenager hell bent on clawing his way up through the ranks of organized crime. At the heart of the story is the anti-hero Pinkie's relationship with Rose – an apparently innocent young waitress who stumbles on evidence linking Pinkie and his gang to a revenge killing that Pinkie commits. This adaptation sets the story in the world of the 1960s mods, and features Helen Mirren looking a bit wistful. Care to take a look?
The film opens here on the 4th Feburary, but if you're just too god damn excited to wait, you can have a gander at the trailer here
About The Author