New Cowboys & Aliens trailer online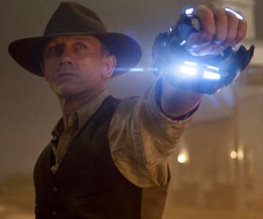 Iron Man director Jon Favreau's mashup sci-fi concept Cowboys & Aliens has got a fresh new trailer ahead of its August release! Take a look and see if you can tell us what they have done to Daniel Craig to make him look so creepy, besides the viscous tango'ing.
Set in 1873, Arizona Territory, Cowboys & Aliens sees Craig as a mysterious, amnesiac stranger who turns up in Absolution, an insular 'Wild West' community ruled by iron-fisted patriarch, Colonel Woodrow Dolarhyde (Harrison Ford). Facing suspicion from the locals and incarceration from Dolarhyde, Craig must piece together his past and figure out his origin, the only clue to which being a hi-tech bangle shackled to his wrist. But when aliens attack from the skies enemies old and new are forced to put their differences aside and work together to repel the invaders.
Cowboys and Aliens will be showing in UK cinemas nationwide from the 19th of August.
About The Author