New Girl's Schmidt joins Paul Rudd/Amy Poehler rom-com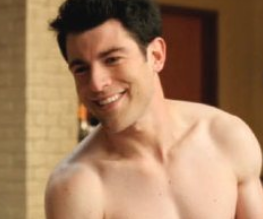 If you gave up on US comedy series New Girl after deciding it was just another quirk-machine for Zooey "it's pronounced vintage" Deschanel, then a world of disappointment be thine – you've missed out on the development of one the most gloriously funny characters we've seen in recent sitcom history: Schmidt. Schmidty, we bow to you, your shoe trees and your hair chutney. And now the man behind him – actor Max Greenfield – is going to do more funny things! In a film! Paul Rudd is also there! This all sounds great!
The rising star is set to join Rudd and veteran SNL comedienne Amy Poehler in what is being touted as a rom-com parody; a tale about a heartless leader of a global corporation who threatens to crush the delicate soul of cute knick-knack shop owner – oooh, sick burn, You've Got Mail. The film is called They Came Together (yeah, we're already fans) and though there's as yet no word on what role Greenfield will be playing, it'll be very interesting to see if he can break free of the neurotic, arrogant and altogether wonderfully horrendous personality that made him a star.
Do you own as many kimonos as Schmidt? Talk to us.
About The Author