New Jack Reacher trailer does little for Cruise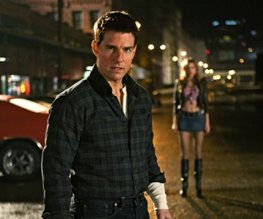 Tom Cruise has had a tough week; just as his daughter turns six and is finally old enough to join the Sea Organization, a school aboard a cruise ship where pupils are required to commit themselves to Scientology for a BILLION YEARS, his wife inexplicably decides he can't have her anymore and files for sole custody. In the hope that we might all forget that he is essentially, completely bonkers, and remembers that he's actually quite good at his job, he's released the trailer for his new film Jack Reacher in which he plays Jack Reacher.
Take a look at the trailer here:

Unfortunately, all the trailer has achieved is making the fans of the Jack Reacher books by Lee Child remember how angry they were that Cruise got cast in the first place. Here's a quick extract from the Wikipedia page of the fictional character of Jack Reacher –
'Reacher is a giant.'
Right, well I think we can all see their point. Reacher is supposed to stand 6′ 5″ tall with a 50-inch chest…Surely they could have worked some techno magic to make Cruise appear tall so the thugs versus Reacher scene didn't look like they were taking on a child. Rather than being a gritty crime thriller, the trailer just looks like a Mission Impossible mash-up, look how clean Tom is for God's sake! Clean and faintly annoying – tortured soul living beyond the law he is not.
Reacher fans angry, Murdoch angry, Scientologists angry for the bad press, mothers everywhere prepared to fight him to death, Happy 50th Birthday Tom!
General verdict? A bit meh. Feel differently? Let us know below
About The Author