New Kick-Ass 2 trailer flies in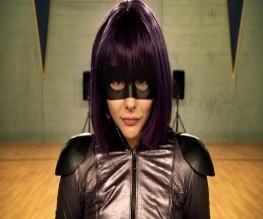 Kick-Ass and Hit Girl are back for more in the first trailer for Kick Ass 2, and they've brought Jim Carrey along for the ride as Colonel Stars and Stripes. From the looks of this trailer Carrey is going to be up to back to his bonkers best, albeit with less slapstick. Aaron Taylor-Johnson returns to the role of Kick-Ass with Chloë Moretz joining him as Hit Girl.
This is a red band trailer for a reason. Similar to the first film Kick-Ass, Hit Girl still swears like a trooper, telling Steve before clobbering him in a furious fist fight: "Act like a bitch; you get slapped like a bitch". Nice. What's also nice is that Christopher Mintz-Plasse will be getting in on the action to avenge the death of his father in the first film. Only he's dropped the Red Mist alter ego, and has decided to wreak havoc as The Motherfucker.
Kick Ass 2 promises plenty of comic violence too, with blood flying from the mouth of every bad guy Hit Girl chins; and a painful torture scene where a dog mauls a guy's crotch. Hopefully the rest of the film will be this mad. Jeff Wadlow has taken over from Matthew Vaughn behind the camera, but his staying on as producer will ensure the film doesn't lose any of its frantic pace. Sound good? Watch the trailer below:
What do you make of the Kick-Ass 2 trailer? Let us know in the comments!
About The Author