New Mortal Instruments trailer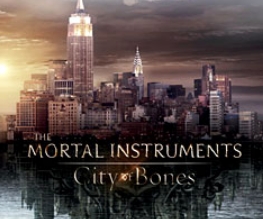 Courtesy of WonderCon, the latest trailer for The Mortal Instruments: City of Bones has been unleashed. With almost a minute more of footage get your sneak peek in to what you can expect come August 23rd. So, a quick overview of Clary's life, a glimpse or two of the monster baddies and just enough of the glowering Jamie Campbell Bower to keep the screaming tweenies happy.
It's been YA adaptation fever recently, with every production company in Hollywood scrambling for what they hope will be the next Harry Potter, Twilight or The Hunger Games franchise. Most of these have turned out to be a hit and a miss (I Am Number Four for instance whose sequel The Power of Six will see nothing but shelf for years to come) while others have just sort of slid under the radar (Beautiful Creatures) with nary a hum of anticipation.
Screen Gems remains hopeful however with it's offering of Cassandra Clare's first book. The Mortal Instruments: City of Bones sees Clary Fray (played by Lily Collins) coming to terms with the idea that she is no ordinary teenager but is in fact descended from a long line of Shadowhunters (half-angels who protect the world from demons). After her mother (Lena Headey) is kidnapped, Clary is taken in by Jace Wayland (Jamie Campbell Bower) & Co in order to discover the truth about her past, rid the city of the things that go bump in the night and find her mummy. The Karate Kid's Harald Zwart will directs with Robert Sheehan, Kevin Zegers, Kevin Durand, Aidan Turner, Jemima West, Jared Harris and Jonathan Rhys-Meyers to co-star.
Are you completely over this particular craze? Or could you do with a little more? Let us know here!
About The Author