New Photos from Kick Ass sequel released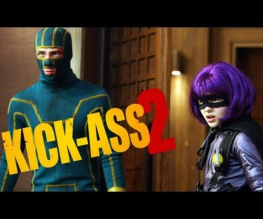 If you weren't already excited about the sequel to Kick-Ass then these pictures taken on the set of the new flick are sure to do the trick. Set for a 2013 release, Kick-Ass 2 (possibly titled Kick-Ass 2: Balls To The Wall) sees Aaron Taylor-Wood and Chloe Moretz reprise their roles as Kick-Ass and Hit Girl with some new additions. Scrubs' Donald Faison will appear as Dr Gravity, a character described as a physics professor turned fighter of crime who joins Kick-Ass in battling evil villains.
Faison can be seen sporting a rather fetching burgundy all-in-one suit, and we're also treated to several photos of Hit Girl in her usual garb of a leather jumpsuit and purple wig. See the photos below, click to enlarge.
Other actors due to appear include: Christopher Mintz-Plasse, Jim Carrey, John Leguizamo and Lindy Booth. Viewers familiar with the Kick-Ass comic book series on which the films are based will be pleased to see the inclusion of Kick-Ass' superhero team Justice Forever, although apart from Dr Gravity it has not been confirmed which members of the team will feature.
Fans may also be surprised to learn that Matthew Vaughn has chosen to concentrate on directing the latest addition to the X-Men series, X-Men: Days of Future Past, and has given directing duties for the second Kick-Ass to Jeff Wadlow. Here's hoping that the follow-up can fill the shoes of its predecessor.
About The Author