New Pictures From Snow White And The Huntsman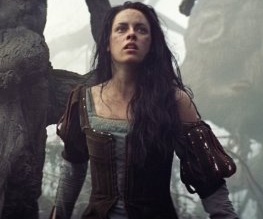 Fairytales are in this year; with TWO Snow White films heading our way, it's hard to decide which one we want to see (except we don't want to see Mirror, Mirror). So, to make things a little easier, we've snaffled some stills from the upcoming Snow White And The Huntsman…
Once upon a time, in a production studio far, far away, a director turned to the magic mirror on the wall and asked:
"Mirror, mirror on the wall; who is the fairest actress of them all?"
The mirror, being a huge Twilight fan, immediately squeaked out the name Kristen Stewart and thus Snow White And The Huntsman was born.
After all of that time spent playing the submissive and helpless Bella Swann, Kristen has decided to amp up her heroine style; in this fairytale with a twist, she wields swords and plays dress-up in armour. She might even deliver a line without furrowing her brow and stumbling over the words!
She also has to decide which of two gorgeous men she wants to… wait a second. ANOTHER love triangle?
Whatever. Will she choose the rugged and manly Huntsman (Chris Hemsworth), who comes complete with battle moves and a dwarf army?
Or will she go for the handsome Prince Charming (Sam Claflin)?
No matter which man Kristen chooses, she still has to lead the troops into battle at some point. She'll probably go absolutely mental and leave her helmet off; she may be a hardened princess, but she's still a princess after all. Great hair is a must-have.
All of this to vanquish the Evil Queen (Charlize Theron) – you've all seen Charlize, right? She's smokin' hot. But she's been driven mad with jealousy over Kristen's superior looks.
Even that funky nail art won't save her.
Just in case the audience need any extra indicators of Chalize's evil nature, the psychotic bitch dresses up as a crow. We all know about crows and their wicked ways, after all.
But this is a fairytale. We all know that, no matter how evil the stepmother or how low the odds are, Kristen will come out on top. And she'll end up living happily ever after with one of those two hotties we mentioned…
Or not.
Are you mad for Mirror, Mirror or are you backing Snow White And The Huntsman? TELL US!
About The Author