New poster for Eddie Murphy's dreadful new film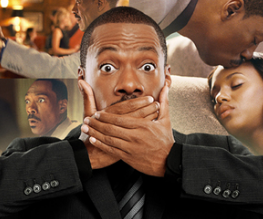 Have you ever wanted to watch a film where Eddie Murphy is spiritually connected to a tree? WELL HAPPY NEWS FOR YOU, YOU POOR, SICK THING. Eddie Murphy has re-teamed up with the director of Norbit (were more horrible words ever uttered?) to bring us A Thousand Words; some hideous, heart-chilling comedy about a bloke who learns stuff about stuff via the ancient art of being spiritually connected to a tree.
Just to put how awful this is going to be into some sort of context, the trailer literally features Murphy singing "I want my baby-back baby-back baby-back ribs." That's a thing that happens in it. The premise is that he's a bad guy, he lies a lot, some magic happens that means he'll die if he says more than 1000 words, he's not Jim Carrey in 1997, and then he learns things.
Here's a poster. It's horrible.
Thing is, considering the whole 'he had to step down from the Oscars after the Brett Ratner scandal' palaver, now might be the time for Eddie Murphy to launch back onto our radars. But if this is all he's got, perhaps its for the best that we consign him to the memory banks. Stop making films with Brian Robbins, Eddie. The best film this bloke ever did was Good Burger, for God's sake.
About The Author