New poster for My Week With Marilyn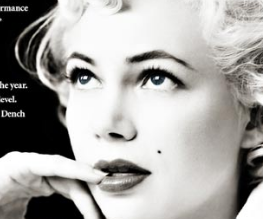 We've already had a sneaky peek at Michelle Williams dolled up as Marilyn Monroe in a first poster for My Week With Marilyn, but as the lady herself didn't say, we're ready for her closeup. A new poster has hit the internet, and it's practically brimming with loveliness.
Recreating the utterly iconic image of Ms Monroe was never going to be an easy task, so we have to hand it to the My Week With Marilyn team for a poster that retains a sense of ol' Hollywood glamour. And Michelle Williams, we're starting to think, was an excellent choice. Take a look:
Never mind the fact that this is a film that has Kenneth Branagh in. And Judi Dench. And Emma Watson. Credited before Judi Dench. Ah well, you can't get everything right, eh? Based on the diaries of Colin Clark – the man who chaperoned Marilyn during the filming of The Prince And The Showgirl – My Week With Marilyn will obviously be sumptuous and lovely. Grand.
About The Author